Vacuum Excavators
Available in Petrol or Diesel - Trailer or Skid Mounted. Click here for more info
Available in Petrol or Diesel - Trailer, Skid or Truck Mounted. Click here for more info
Available in Petrol or Diesel - Trailer, Skid or Truck Mounted. Click here for more info
Available in Petrol or Diesel - Truck or Skid Mounted. Click here for more info
Clutches, Valves, Filters, Hose Reels and much more. Click here for more info
What is vacuum excavation?
Also called Hydro Excavation or Non-Desctructive-Digging.
NODIG Equipment supplies a range of vacuum excavation systems to assist customers in locating underground utilities safely.  These vacuum excavators allow digging around buried utilities without causing damage to them.
The vacuum excavation, also called hydro excavation can also be used to clean up mud and other spills from horizontal or vertical drilling jobs.
The Non-Destructive Digging process uses high pressure water to help breaking up the hardest soils which can then be removed using the high volume vacuum system.
VM3000 Vacuum Excavation Truck mounted For HIRE
Try before you buy
We now have several VM400 trailer mounted vacuum excavation systems for hire. Don't hesitate to ask us about price and availabilities here.
Find out more about our vacuum excavation systems for sale today. Download the brochure (click here), its absolutely FREE.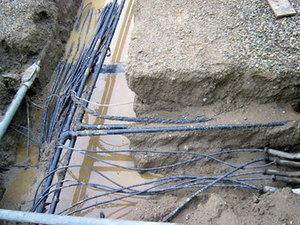 Vacuum Excavation can saves you a lot of drama
VMSeries multi purpose vacuum excavation systems
Lower costs and Increase profits. By making clean ups fast and simple, reduce the damage claims by knowing exact utility locations.
Do new and different types of jobs from cleaning out valve boxes, culverts and vaults to damage free installations of sign posts and guard rails.
Keep your customers happy. Complete the job in a professional manner, with a clean and undisturbed job site.
Hydraulic operated dumping
Quick & easy dumping
Petrol or Diesel engine
Cyclonic filtration system - Minimises filter cleaning
Powerful, flexible and affordable multi purpose vacuum excavation systems
The Vacuum Excavation or NON DESTRUCTIVE DIGGING Machines are designed to perform a wide range of cleanup and digging jobs. Equipped with a high pressure water system, the vacuum hydro excavation machines enable you to pot-hole exposed buried utilities to determine their exact location and avoid any damage to the services.
The vacuum excavation systems are available with tank sizes ranging from 500 to 4500 Liter, Kohler and Kubota Diesel or Kohler Petrol, 3" or 4" vacuum hose and a wide assortment of tools and accessories to meet your particular job requirements.
Watch the video of our VM4500 Vacuum Truck For HIRE
The VM4500 is for hire. Contact us today to book this vacuum truck.
Details of all our vac trucks and our vacuum excavation systems on trailer for hire at :
Pot-holing, locating underground utilities, trenching and much more with a vacuum excavation system.
Donwload the brochure for FREE by filling out the form below.
By signing up below you will receive an email with a link to download the vacuum excavation system VMSeries brochure. More info
Phone us today to check availability and prices : (08) 9493 0642