VM850 Vacuum Excavator
Locating underground services becomes a breeze with a VM850 vacuum excavation system from NO DIG Equipment. The safest method over conventional excavation in order to locate and expose underground utilities.
Vacuum excavation, suction excavation or hydro vac and also called Non-Destructive-Digging.
Invest in one of our simple vacuum excavation units to protect underground assets. Underground services include high voltage power, telecomunication cables, sewer, live gas.  These services are not always where the plans show them to be. Using a VM850 is the easiest way to locate these services and physically see where they are before drilling, trenching or doing other excavation work.
The VM850 vacuum excavator is mainly used in crowed spaces, like cities and other urban areas where underground services are prolific and the impact of your work has to be minimal.
The VM850 can be supplied mounted on a custom heavy duty 3.5T skeleton trailer, which incorporates all standard components in one simple package. Or we can supply it on a skid ready to mount on your own trailer or small truck.
What type of work can you do with a VM850 Vacuum Excavator ?
Cleaning Telstra pits
Underground Service Locating
Clean up construction sites
Install fence posts
Live gas pipe maintenance
Live sewer pipe maintenance
Installing NBN optical fiber through asbestos pipe
...and much more
What accessories come with the VM1000?
7m of 3" suction hose from the 850L tank to the 3" suction pipe
Heavy wall 3" suction pipe, 1200mm Long, fitted with a 3" CAM-LOCK
15m of high pressure hose
1.5m long lance water gun
500L clean water tank
Maintenance and operation manual
You can add the following options
10m of 3" suction hose
Extra double jet digging wand (dig 6.5" hole)
Heavy duty 3.5T trailer with electric brakes
VM850 Vacuum Excavation Photo Gallery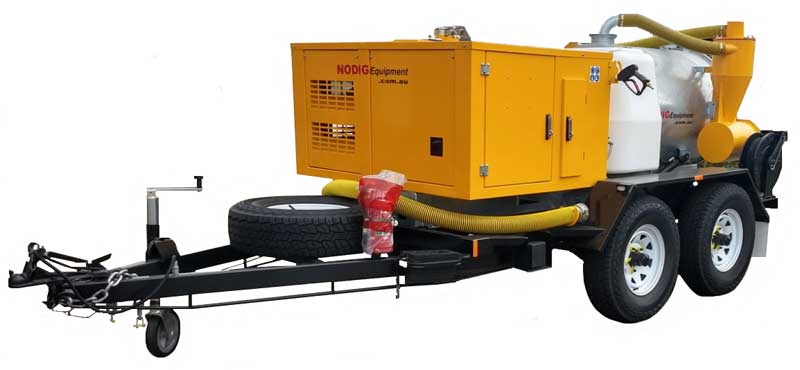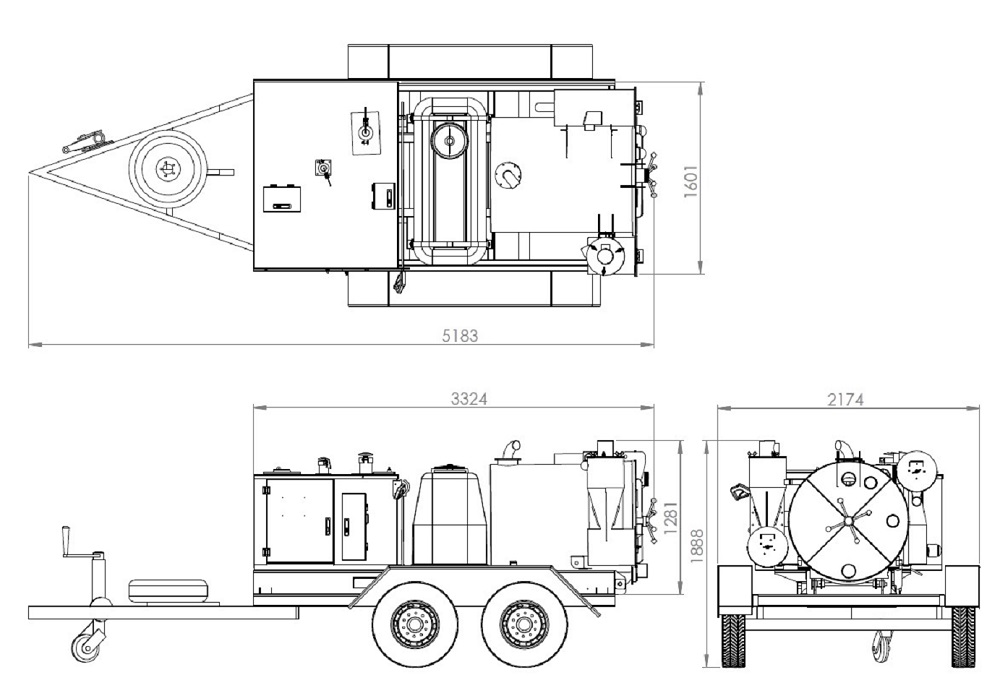 VM850 Vacuum Excavator

Vacuum System

550 CFM blower, c/w-3" diameter hose (318mm Hg 15'Hg)

Diesel Engine

34.9 Hp Kohler KDW1404 Diesel Engine

Spoil Tank

850L Capacity with hydraulic tipping

High-Pressure Water System

3500psi @ 15Lpm

Water Tank

500 Litres

Retractable Hose Reel
15 m
Dry Weight
1235 Kg
Optional Extras

Double Jet Digging Wand

6.5 inch / 165 mm hole

Hose extension

10 m

Heavy Duty Trailer

3.5T, c/w- electric brakes (780Kg)
Pot-holing, locating underground utilities, mud cleaning and much more with a Vacuum Excavation system from NO DIG Equipment.
Download the FREE brochure by filling out the form below.
By signing up below you will receive an email with a link to download the Vacuum Excavation VMSeries brochure. More info