Rock Reamers and Hole Openers
We have been doing these for a while now and they have proven to be very successful in the field.
The cutters are sealed bearing generally with 637 hand formation carbide. The cutter locates in a hardened tongue and groove pocket and is further fixed in place with high tensile bolts.
All our hole openers are made to order and we can usually build one in a 10 working day turnaround.
Rock Reamer - Hole Opener


Part #
Description
RHO12
12" (305mm) on 2.3/8" API REG Shaft
RHO14
14" (355mm) on 2.3/8" API REG Shaft
RHO16
16" (406mm) on 2.3/8" API REG Shaft
RHO20
20" (508mm) on 3.1/2" API REG Shaft
RHO24
24" (610mm) on 3.1/2" API REG Shaft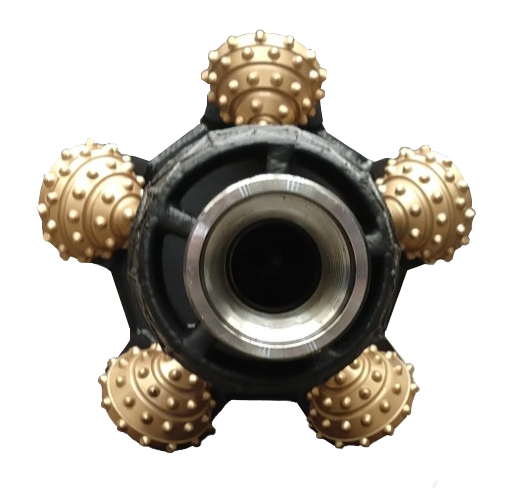 Front Stabilizer can be supplied made to order. Tell us what is your Horizontal Directional Drill and we will fit the right Front Adapter Sub as well as the rear-end, be a single pulling eye, or a Swivel.
Here are some samples of Rock Back Reamers we have manufactured for our clients.  No Dig Equipment carries some stock hole openers in house, however, most of these reamers need to be made to order.  So if you require a specific hole opener for your next job, please tell us the size of the pipe you need to install and the rock formation you are drilling in, and we will design the best Rock Reamer for your needs.
Reamers with Built-in Stabilizers
Stay straight in the hole with our built-in stabilizer Rock Reamer / Hole Opener. These units are custom build on request and would generally be used where it is required to open up a hole in a gradual manner.  If the conditions are right these reamers are very cost-effective as they do not require an expensive set of stabilizers or barrel reamers to be towed in tandem.
All our hole openers and rock reamers can be supplied with a range of cutters to deal with soft rock like limestone or sandstone, right up to hard formation bits capable of drilling in Granite and Basalt.  Correct cutter selection allows higher productivity and tool life.
Reamers with Bolt-On Cutters

Our new breed of rock reamers comes with  Bolt-On Cutters,  with this innovation the upgrade is easy, its field-replaceable by your own technicians, cost-effective, and without delay.
Our Rock Reamers can be a custom build with 3, 4, 5 or more rock bits depend on your pullback power and the diameter of the pipe.  A wide selection of cutters is available to allow drilling in conditions from soft rock right through to the hardest granite.  Our Hole openers are generally fitted with API threads, however, in the smaller sizes, we can adapt our standard connection sub-range to suit Vermeer and Ditch Witch machines.