No Dig Equipment Repairs and Servicing Division is designed to help you achieve the highest returns on your equipment investment by helping you optimise the productivity, versatility and working life of your Trenchless Technology Equipment including Vacuum Excavators, Rock Reamers, Moles, Drilling Blades, Transmitter Housing, Microtunneling and HDD Drills.
The state-of-the-art workshops are ideally positioned for fast and easy access, undertaking repairs, services, both minor and major refurbishments. As one of Australia's largest manufacturers, No Dig Equipment offers quality service and repair work. Protect your investment with No Dig Equipment.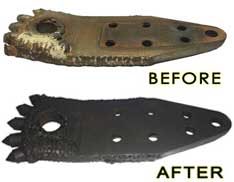 This picture shows a slant face drilling bit, also fitted with carbide tipped teeth that enable it to penetrate hard ground. We manufacture and repair drilling blades with embedded tungsten carbide hardfacing.
Drilling Blade Repairs include
Teeth Replacement - The drilling blade teeth is the most important component.
Tungchip Repair - Extremely hard tungsten carbide material is applied to the surfaces of the teeth by a welding process to improve durability.
From small repairs over maintenance service to extensive full rebuilds - No Dig Equipment specialises in repairs and refurbishing microtunneling equipment. Depending on the status of your machinery we will make a tailor-made offer to get it up and running. With a full disassembly, a refurbishment or replacement of worn parts, the system will run like new again.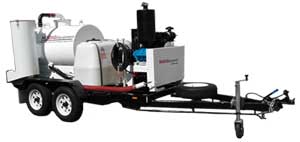 No Dig Equipment provides authorised hydro excavating equipment manuals on how to properly service and use all of your No Dig Equipment manufactured vacuum excavators efficiently and safely. You can always trust our factory authorised parts and service programs to keep you in full compliance with your vacuum excavating equipment warranty.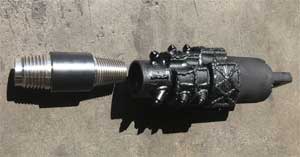 We provide repair and refurbish services for all Reamers (including Easy Reamers, Ripper Reamers, Rock Reamers, Fly-Cutter and Compaction Reamers), even the ones our competitors have built. Everything is serviced in-house from machining to welding and Tungston Chip Coating. We also carry out sub repairs and replacement to suit the variety of OEM Machines.
Our custom built reamers are generally fitted with a suitable sub range to suit Vermeer and Ditch Witch machines. Reamers usually allows easy and fast connection to your starter rod and provides the easiest reaming solution on the market today, and you will never consider taking the risk of not back-reaming again. They are ideally suited for hard pack soil and sticky clay conditions, the cutters are angled to provide excellent cutting and mixing action