The deep channels of our Compaction Backreamer allow fast flushing of cuttings and reduce the possibility of frack out.
Compaction Reamers are ideal in Sandy and Water Charged Ground Conditions - No Collapsed bored hole anymore
These back reamers are ideally suited to sandy and water charged ground conditions, where it is likely the hole which is reamed will not self support once the reamer passes through. Compaction backreamers rely on the promotion of a bentonite filter cake, which is designed to force the drilling fluid (usually a Bentonite Clay slurry) into the surrounding soil matrix in order to provide support to the hole and prevent hole collapse.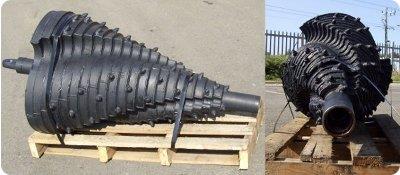 Compaction Reamer 650mm diameter
How the Compaction Reamer Works
The design of these compaction backreamers is in a cone shape which gradually increases in size progressively opening up the hole. This tapered design is optimised to force drilling fluids into the soil matrix which helps with stabilising the bore hole to prevent it from collapsing. 
Large Fluid Passages to Move Cuttings Fast
These channels allow for fluid and cuttings transportation. Large channels or flutes allow the spoil to pass and encourage good circulation and flow-back of cuttings.   If the flutes are too small, mud pressure can build up in the bore hole and cause frack-outs and loss of mud circulation.
Built Tough to Last
Fluted reamer as not all are created equal. Our Compaction Reamers are created out of solid material, which will outlast other types of fluted reamer which may be cast or fabricated. The additional weight might be a bit of an inconvenience, however the benefits of being able to easily repair and refurbish solid reamers greatly outweighs the convenience of hollow cast type fluted reamers.
Aggressive Cutting action Rips through soft Rock and Tree Roots
Carbide cutting teeth on the cone can provide aggressive cutting and help break up roots or soft rock formation. This feature gives the fluted compaction reamer versatility and allows it to operate in a variety of soil, sand and even mixed ground conditions.
Built in Swivel
Built in swivels are available with our reamers, they will generally shorten the package lengths. This helps prevent the pipe getting stuck in case of the hole collapsing behind the reamer. The other advantage of a built in swivel is that it allows you to push back the package, in emergency situations, without jack-knifing your swivel and running over your package. This may be required when the reamer blocks and you need to clear the cuttings.
Compaction Reamer c/w Tungchip Hardfacing

 
Part #
115mm Pack, 2.3/8" shaft, (Optional Swivel)
RC115
150mm Pack, 2.3/8" shaft, (10T Built in Swivel)
RC150
200mm Pack, 2.3/8" shaft, (10T Built in Swivel)
RC200
250mm Pack, 2.3/8" shaft, (10T Built in Swivel)
RC250
300mm Pack, 2.3/8" shaft, (10T Built in Swivel)
RC300
350mm Pack, 2.3/8" shaft, (10T Built in Swivel)
RC350
400mm Pack, 2.3/8" shaft, (20T Built in Swivel)
RC400
500mm Pack, 2.3/8" shaft, (20T Built in Swivel)
RC500
600mm Pack, 2.3/8" shaft, (20T Built in Swivel)
RC600
650mm custom build, Check out the pictures on Facebook, click here
RC650
Unique Troweling Edge Promotes Filter Cake and Improves Bore Hole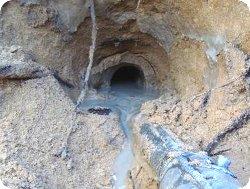 Our compaction reamers don't have any teeth on the outside diameter (see the picture below). This helps to maintain and improve the filter cake as well as increasing hole stability.
Other reamers have teeth all the way to the outside. This means that the filter cake that you have tried to create gets ripped out with the final pass of the reamer cutters.
Our unique troweling edge further promotes and compacts the filter cake providing a more stable and better bore hole.  The specifically designed shape of our flutes helps force bentonite into the surrounding soil, further increasing and compacting the filter cake, thereby increasing hole stability.
What all this means is that you will have less frack outs and hole collapse, because the reamer is working with you by maintaining and developing a premium bentonite filter cake.
Troweling Edge Promotes and compacts Filter Cake for a more Stable Bore Hole
Our range start from 125mm and goes to 600mm diameter.  
Need a bigger size? Contact us now and we'll build it for you!